Jim Bush, Principal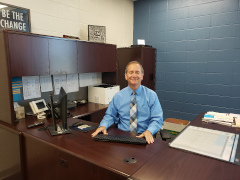 Jim Bush

As we enter the 2022 - 2023 school year we do so with hopefulness that this will be our best year yet! For SSHS, we know that our students, faculty and staff are excited to return to school. Our community embraces all of our schools and realizes the importance of face to face instruction. Rebel Spirit has stayed strong through the past few years and is ready to meet the challenges head on during our upcoming year. Like every school, we know there will be obstacles, but we will do our best to work through them to provide a positive education in the safest way.
SSHS has two changes in our faculty for the 2022-2023 academic year. Mr. Kyle Vincent is our choral director, replacing Ms. Mundy. Kyle comes to us from Tell City, where he led their Choral program for the past five years. Mr. Vincent will also be directing our drama department. Mr. Scott Page returns to SSHS with years of AP teaching experience and will provide quality instruction with his science expertise. We are pleased and proud to have filled both of these positions with quality teachers. This combined with our veteran teachers gives South Spencer an outstanding faculty which provides consistency to our students. SSHS recently completed an 18 million dollar renovation project, which improved classrooms and provides two of the best science labs in Southern Indiana. We know our school offers a well rounded educational experience for all students.
This will be my 40th year in Education. I was a teacher and coach for fifteen years, an Assistant Principal for nine years, and have been a High School Principal since 2007. I have had many experiences in my years of education and each year brings a new set of challenges for students and staff. Our experienced Faculty and Staff look forward to a successful 2022 - 2023 school year for Rebel Nation.
GO REBELS!!!
If you have questions regarding South Spencer High School, please feel free to contact us.
Respectfully,
Jim Bush