Jim Bush, Principal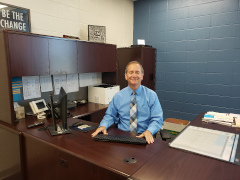 This email address is being protected from spambots. You need JavaScript enabled to view it.


As we enter the 2020 - 2021 school year we do so with mixed emotions and uncertainty. Many things are up in the air in our world, country, state and county, but for SSHS one thing comes through clearly. Our students, faculty and staff are excited to return to school. With over 92% of our students choosing to return to face to face instruction it is evident that being "in school" is important. Being gone for 160+ days did not diminish the Rebel Spirit and it has shown in these first few weeks of school. Students and teachers alike have arrived with a renewed spirit, determined to make this school year the best it can be. We know there will be obstacles, but we are doing our best to work through them to provide a great education in the safest way possible.
SSHS has several changes in our faculty for the 2020-2021 academic year. Mr. Steve Sherohman, moves from Choral Director to the Assistant Principal position. He brings energy and enthusiasm, and has a passion for working with students on an individual basis in helping them make the right decisions. We also have six new teachers: Tara Compton; Health and Physical Education, Jeff Daming; Physical Education and Head Football Coach, Eryn Jochim; Spanish and Asst. Cheer Coach, Lalenia Mettle; Biology, Emma Mundy; Choral Director and Scott Page; Chemistry. Five of the six enter SSHS with outstanding backgrounds and valuable experience. Mrs. Mettle and Mr. Page come to us with multiple years of AP teaching experience from different states and are providing quality instruction in these two science areas. Miss Mundy is a highly touted concert pianist who brings a new level to our Choral program. With all of these new teachers combined with a veteran faculty and our recently completed 18 million dollar renovation, which improved all classrooms and has given us two of the best science labs in Southern Indiana, we believe SSHS offers a great educational experience for all of our students.
After 37 years of being a teacher, coach, Assistant Principal and Principal, I thought I had seen most everything. This year brings a new set of challenges that people in education have never experienced. However, this experience has been educational, as it has allowed us to put together a team of educators that, combined with our outstanding technology department, is providing quality education in both virtual and the face to face arena.
If you have questions regarding South Spencer High School, please feel free to contact us.
Respectfully,
Jim Bush