Rick Hunt, Principal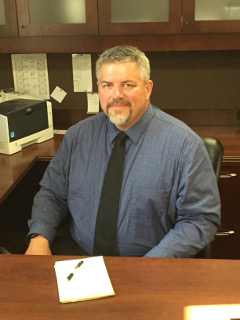 Dear Rockport families and community,
The 50th anniversary of the first moon landing came over the summer, and watching the replays and documentaries of the event has captured my imagination. So many amazing scientific advancements and accomplishments had to happen to allow for man to walk on the moon. The unbelievable bravery of the astronauts inspires even today.
I was also inspired by John F. Kennedy's famous speech given at the inception of the Apollo program, "We choose to go to the moon. We choose to go to the moon in this decade and do the other things, not because they are easy, but because they are hard, because that goal will serve to organize and measure the best of our energies and skills, because that challenge is one that we are willing to accept, one we are unwilling to postpone, and one which we intend to win, and the others, too."
JFK set a goal for our nation to land on the moon within a decade. Within seven years of setting that seemingly impossible goal, Neil Armstrong stepped onto the surface of the moon. What had seemed impossible had become reality. However, it did not come without enormous effort and cost. It was not easy… but it was a goal that our country was determined to win.
Goals can be powerful and they should stretch us. What goals might help your kiddo reach for the stars this year? What goals has your school set this year to grow and get better for our community and for our students?
The Rockport Elementary and Luce Elementary teachers have been working hard on some big changes for this school year. We are implementing a new language arts, math, and phonics program, and there are some changes in our schedule to help us be more effective. This is not going to be an easy process, but it is something that we know needs to be done. It will organize and measure our best, and these changes will help us ensure all of our students are getting the best we can offer. All students ~ All the time. Check out the video linked below to see this work in action! https://youtu.be/KqpoVEeHXu8.
We look forward to helping all of our students Soar to New Heights this year!!!
Sincerely,
Rick Hunt, Principal