Scot French, Principal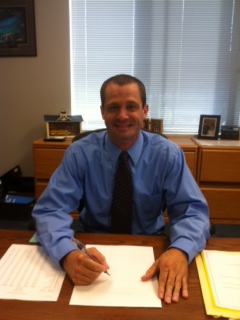 I graduated from South Spencer High School in 1989. My undergraduate and graduate work was successfully completed at Western Kentucky University. In 1997 I began teaching World and US History at Owensboro Middle School. I also coached 7th grade football and 8th grade basketball for OMS. In 2000 I was offered the opportunity to interview for an assistant principal spot at Owensboro High School, and from 2000-2003 served in that capacity. In 2003 I was hired as principal at Rockport Elementary School, and then transferred to my current position as SSMS principal in 2014.

I'd like to thank our maintenance and custodial staff for their hard work this summer as they helped prepare our buildings and grounds for the new school year. Everything is really looking nice. We've just completed a major upgrade to our building and campus surveillance system by adding several digital cameras inside and out. This improvement was funded by a 1:1 matching grant from the Indiana Department of Homeland Security. I have written for this grant for two years, and have been able to bring $98,000 to the district to help improve security cameras in all South Spencer schools.

The Marching Rebels will be under the direction of our new band director, Mr. Jacob Tabor. Mr. Tabor comes to us from WKU. Be sure to come out and enjoy our band and color guard as they work to create another outstanding show. I am also looking forward to seeing the engaging instructional activities that teachers have been planning and working on over the summer.

As the academic year progresses please openly communicate any positive growth, needs, or concerns with your child's teachers. Two-way communication is a key factor in creating a successful learning environment.

If you would like to volunteer for the school, then please visit our corporation website and submit our Volunteer/Hold Harmless form. Go to the Admin tab and choose corporation forms. Once filled out, please bring to the school.

Student success is a team effort, so please feel free to stop in and discuss how you can help.


Scot French